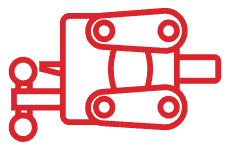 Shock Absorption Protects Truck, Trailer & Cargo

Reduces Driver and Animal Fatigue
types of torsion flex hitches
The patented TORSION-FLEX Technology is designed to create the smoothest ride for you and your cargo. Designed to absorb the inertia between your tow vehicle and trailer, this technology is unlike anything else on the market.
Looking for Non-Torsion Standard Hitches?
"Torsion-Flex increases fuel economy"
"I love it and was impressed with the difference in the ride. It also increased my fuel mileage by 1.5 miles to the gallon pulling the same trailer loaded the same way to the same race." Joseph
"So smooth and no jerking or pulling. We keep track of our mileage and with this hitch we got 1 ½ to 2 miles per gallon better fuel economy versus when we used a regular hitch." Rodney
"I used to switch out tires 3 times a year and now I only change them once a year." Walk-in Customer Most Adjustable Hitch available

Ranging from
5,000 lbs. to 32,000 lbs. Towing Capacity Limited lifetime warranty on all Hitches.
5 Year warranty on rubber components.
Optional
lifetime warranty
available.